Linaclotide
General Information
Linaclotide Impurities and Linaclotide 
Daicel Pharma synthesizes high-quality Linaclotide impurities, Ac-Linaclotide, Asp(7)-Linaclotide, Cys(1)-IMD-Linaclotide, and Des-Tyr(14)-Linaclotide, that help in the quality, stability, and biological safety analysis of Linaclotide. We also offer custom synthesis of Linaclotide impurities and supply worldwide.
Linaclotide [CAS: 851199-59-2] is a cyclic peptide, a guanylate cyclase-C agonist made up of 14 amino acids. It is structurally related to the endogenous guanylin peptide family. Linaclotide is known to be effective in providing relief to patients suffering from irritable bowel syndrome and chronic constipation.
Linaclotide: Use and Commercial Availability
Linaclotide is a drug used in adults for the treatment of irritable bowel syndrome with constipation (IBS-C) and chronic idiopathic constipation (CIC). These conditions cause symptoms such as stomach pain, bloating, and difficulty passing stools. Linaclotide belongs to a class of drugs known as guanylate cyclase-C agonists, which work by stimulating the movement of food and waste through the digestive system.
Linaclotide is administered orally through capsules that are offered in three different strengths. It is available under the brand names Linzess and Constella.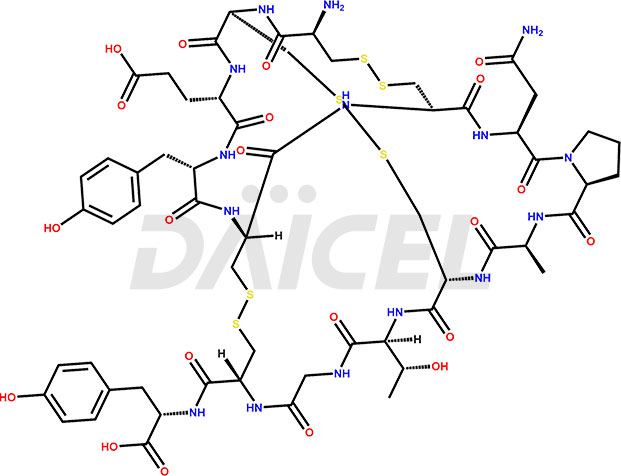 Linaclotide Structure and Mechanism of Action
The chemical formula of Linaclotide is C59H79N15O21S6, and its molecular weight is 1526.75 g/mol.
Linaclotide is a guanylate cyclase-C (GC-C) agonist with its active metabolite that binds to GCC and acts locally on the luminal surface of the intestinal epithelium. The activation of GC-C results in an increase in both intracellular and extracellular concentrations of cyclic guanosine monophosphate (cGMP). It stimulates the secretion of chloride and bicarbonate into the intestinal lumen, mainly through the activation of the cystic fibrosis transmembrane conductance regulator (CFTR) ion channel. Subsequently, it results in increased intestinal fluid and accelerated transit.
Linaclotide Impurities and Synthesis
Linaclotide is prepared1 using solid-phase peptide synthesis method2. However, the crude product may contain impurities such as incompletely synthesized peptides and incorrectly-formed disulfides. It is vital to develop HPLC methods3 for the analysis and preparation of Linaclotide to ensure the purity of the final product.
At Daicel, we provide a Certificate of Analysis (CoA) from a cGMP-compliant analytical facility for Linaclotide impurities, Ac-Linaclotide, Asp(7)-Linaclotide, Cys(1)-IMD-Linaclotide, and Des-Tyr(14)-Linaclotide, along with complete characterization data including 1H NMR, 13C NMR, IR, MASS, and HPLC purity. Upon request, we provide 13C-DEPT and CHN. Also, we provide a complete characterization report upon delivery. Daicel offers highly pure isotope-labeled standards of Linaclotide in bioanalytical research and BA/BE studies with isotope data in CoA.
Note: Products protected by valid patents by a manufacturer are not offered for sale in countries having patent protection. The sale of such products constitutes a patent infringement, and its liability is at the buyer's risk.