Lanreotide
General Information
Lanreotide Impurities and Lanreotide
Daicel Pharma synthesizes high-quality Lanreotide impurities, Des-Thr(8)-Lanreotide, L-Nal-Lanreotide,  and N-Ac-Lanreotide, that help in the quality, stability, and biological safety analysis of Lanreotide. We also offer custom synthesis of Lanreotide impurities and supply worldwide.
Lanreotide [CAS: 108736-35-2] is a synthetic, cyclical octapeptide, an analog of somatostatin, a natural hormone. It is used to treat acromegaly in patients who have had an inadequate response to or cannot be treated with surgery and/or radiotherapy.
Lanreotide: Use and Commercial Availability 
Lanreotide has a longer half-life than somatostatin, which makes it a suitable option for treating neuroendocrine tumors that produce excessive amounts of growth hormone (acromegaly) or other active hormones and neuropeptides. It is used in the treatment of autosomal dominant polycystic kidney disease.
Lanreotide is available in various forms, including injections and implantable devices, and the dosage and frequency of administration depend on the patient's needs and medical conditions. It is marketed under brand names Somatuline Depot, Somatulin-Autogel, Somatulin, and Lanreotide (generic).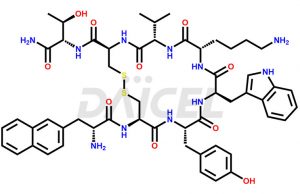 Lanreotide Structure and Mechanism of Action
The chemical formula for Lanreotide is C54H69N11O10S2, and its molecular weight is approximately 1096.3 g/mol.
Lanreotide is classified as a somatostatin analog and mimics the effects of somatostatin in the body. It affects many physiological regulatory functions in various organs of the human body.
Lanreotide Impurities and Synthesis
Lanreotide is synthesized1 by solid-phase peptide synthesis (SPPS). During the process, impurities may form due to incomplete reactions, side reactions, or other factors. The most common impurities in Lanreotide include deletion sequences (shorter peptide chains), incomplete peptides (in which the amino acid sequence is not complete), and peptides with different amino acid substitutions. To ensure the quality and purity of Lanreotide, various purification and analytical techniques are used to ensure that the final product is of high quality and purity.
At Daicel, we provide a Certificate of Analysis (CoA) from a cGMP-compliant analytical facility for Lanreotide impurity2 standards, Des-Thr(8)-Lanreotide, L-Nal-Lanreotide, and N-Ac-Lanreotide, along with complete characterization data including 1H NMR, 13C NMR, IR, MASS, and HPLC purity. Upon request, we provide 13C-DEPT and CHN. Also, we provide a complete characterization report upon delivery. Daicel offers Lanreotide D8 TFA salt, which is a deuterium-labeled standard of Lanreotide in bioanalytical research and BA/BE studies with isotope data in CoA.
Note: Products protected by valid patents by a manufacturer are not offered for sale in countries having patent protection. The sale of such products constitutes a patent infringement, and its liability is at the buyer's risk.